The poetic sculpture of 11 Indian people known as DANDI MARCH STATUE, hence the name – 'Gyarah Murti'. The veteran artist and sculptor Devi Prasad Roy Chowdhury created this iconic statue.
Dandi March Statue in Delhi or "Gyarah Murti" in Hindi. It is a black sculpture which represents the Salt March in 1930 started by Mahatma Gandhi. The sculpture has the eleven people including Gandhiji following Dandi March, thus named Gyarah Murti. Devi Prasad Roy Chowdhury has designed this iconic statue.
The shining black statue or sculpture of Gandhi including 11 people is situated in the heart of the city, Delhi. It is based on the memory of the iconic day of Dandi March of 1931. This is clearly visible on the Sardar Patel Marg, near Willingdon Crescent.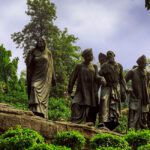 Visiting Detail
Location:

Mother Teresa Crescent, Sardar Patel Marg New Delhi – 110011

Timings: Any time
Closed: Open all 7 days
Entry fee: Free
Is Photography allowed: Yes
Symbolism of the sculpture
Gandhi's iconic sculpture includes a woman whose head is covered following close after him. Then it has a group of three men, including a Sikh, a Hindu scholar with topi (cap) and a Muslim. The hindu man is wearing a turban showing the symbol of intellectual distinction. He has a religious mark on his forehead. An insolvent person is looking far ahead symbolising no marks of class, caste or religion. A Christian leader, another woman is there in a skirt in the status. There is also a young boy who is seen encouraging a tired old man to travel farther.
Background
Gandhiji started this 24 day campaign on 12th March 1930 which ended on 6th April 1930 against the British salt tax. And around 80 trusted volunteers joined this march who walked 240 miles in 24 days from Sabarmati Ashram to Dandi in Gujarat. Millions of Indians joined this historic event in support of Gandhiji and break the British monopoly law of salt tax. However, this movement was based on the non violent principles by Mahatma Gandhi.
Art behind the statue
D.P. Roy Chowdhury (1899-1975), has created the poetry in stones and on canvas. He remained an artist throughout his life. People say that he used to select his models among the general public.
In 1937, the British government has awarded Dr Chowdhury as the Most Exalted Member of The British Empire. Moreover, in 1958, the government also honoured him with the Padma Bhushan award. His one of the masterpieces are Triumph of Labour and Madras and Martyrs.
Gyarah murti or Dandi March Statue representing the unity of our nation showing the glory of our nation in one place.
Highlights
The statue has 11 members including Mahatma Gandhi alongwith Matangini Hazra, Sarojini Naidu, Brahmabandhab Upadhyay (a freedom fighter) and Abbas Tyabji.
Gandhiji's glass is not there on the statue because somebody stole it.
Gyarah Murti is also available on Indian note of Rs.500.
Attractions near Dandi March Statue