The article is about the biography of Maratha King Chhatrapati Shivaji Maharaj. Shivaji was a great ruler who formed the root of the Maratha Empire. Shivaji officially received the title of Chhatrapati meaning Emperor of his kingdom at Raigarh in 1674. He reigned from 1674 to 1680 CE. He strengthened the old Hindu political rituals and court protocols. Bhosale was the great promoter of Marathi and Sanskrit languages in administration. He emerged as the hero of the Hindus.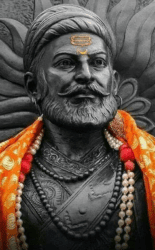 Quick Facts
Real Name: Shivaji Bhosale
Born: 19th February 1630
Died: 3rd April 1680
Religion: Hinduism
Spouse: Saibai Nimbalkar, Soyarabai Mohite, Putalabai Palkar, Sakvarbai Gaikwad, Kashibai Jadhav
Father: Shahaji Bhosale
Mother: Jijabai
Famous as: First Chhatrapati of Maratha Empire
Early Life
Shivaji Bhosale was born in Shivneri fort near Junnar city. Nowadays, it is known as Pune. 19th February is appointed as a holiday in the Maharashtra government on the name of Shivaji's birthday. Shahaji, Shivaji's father was a Maratha General. He had served Deccan Sultanate. Jijabai, Shivaji's mother was the daughter of the Mughal aligned commander, Lakhuji Jadhav. He was from Sindkhed in Maharashtra. She was a very religious woman. Shivaji was more connected to his mother. The hindu epics, Ramayana and Mahabharata influenced his life.
Upbringing
Shahaji moved Jijabai and son Shivaji from Shivneri to Pune after getting married to his second wife Tuka Bai. Under the supervision of Dadoji Konddeo, Shivaji received education and training. He loved to visit the hills and forests in the western ghats with his friends. Shivaji and his elder brother Sambhaji and half brother Ekoji went to Bangalore for formal training. Shivaji married his first wife Saibai Nimbalkar at the age of 10.
Battles
Dispute with Bijapur
Shivaji Maharaj bribed the governor of Bijapur to acquire the fort of Kondana. Inayat Khan was the commander of the Torna fort of Bijapur in the year 1646. Shivaji also bribed him for the possession of the fort. Shivaji was just 15 years old at that time. In 1648, Mohammed Adil Shah, the governor of Bijapur ordered Baji Ghorpade to arrest Shivaji's father, Shahaji. Thereafter, he put him in prison in a bid to hold Shivaji. Shahaji was released in 1649. After that he retired from work. After a few years he died. In 1656, Shivaji killed a landowner of Bijapur, Chandrarao More.Then he seized the Valley of Javali.
Battle against Afzal Khan
Adil Shah was unhappy with Bhosale's losses because of Shivaji and his forces. Shivaji's father Shahaji also denied his support. In 1657, Adilshah became stronger and ordered Afzal Khan to detain Shivaji. On 10th November 1659, Shivaji with his forces defeated the forces of Bijapur Sultanate in the battle of Pratapgarh. They killed many soldiers of Bijapur in the battle. They also arrested two sons of Afzal Khan.
Siege of Panhala
In 1660, Adil Shah associated with Mughals and sent General Siddi Jauhar to attack the southern border of Shivaji. Shivaji was staying in the Panhala fort with his forces. The army of Siddi Jauhar besieged Panhala.They also interrupted the supply routes for the fort. To make this mission successful Siddi Jauhar took help from British. He purchased grenades and also hired artillerymen. After a few months of fort siege Shivaji agreed to hand over the fort to Siddi Jauhar in 1660. He took back the fort in 1673.
Fight of Pavan Khind
Shivaji left in the darkness of night from Panhala along with Baji Prabhu Deshpande and 300 soldiers as he was being stalked by enemy troops. His soldiers fought to hold back the opponents at Ghod Khind which helped Shivaji and his army to reach Vishalgad fort safely.
In the battle of Pavan Khind, the maratha force was much smaller which hindered the progress of the large enemy. As a result, Shivaji was able to escape. Baji Prabhu Deshpande was hurt badly but still continued fighting until Shivaji safely reached the fort. Finally on 13th July 1660, Shivaji reached Ghod Khind (meaning Narrow mountain pass). Later, it was renamed as Pavan Khind which means sacred pass in tribute of Baji Prabhu Deshpande and other soldiers who fight in the battle.
Dispute with Mughals
Before 1657, Shivaji had no conflicts with Mughals. After beating Bijapur, Shivaji offered Aurangzeb to assist him for better control on Bijapur forts and villages. Mughals were not satisfied with this. Due to this Shivaji attacked on Mughal Deccan. Shivaji's officers attacked on Mughal territory in March 1657 near Ahmednagar followed by Junnar. Aurangzeb sent Nasiri Khan in reply. And they defeated Shivaji forces.
Attack on Shaista Khan
The Mughal Emperor Aurangzeb sent Shaista Khan with a powerful army to attack Shivaji in January 1660. Shaista Khan sieged Pune with the help of his equipped army. He captured Shivaji Palace of Lal Mahal.
Shivaji attacks Shaista Khan with a small group of men in April 1663. In this battle he killed many wives of Shaista Khan's men. Shaista Khan escaped. But he lost his one finger in the crowded battle.
Shivaji's arrest in 1666
In the year 1666, the army of the Mughal Emperor, Aurangzeb arrested Shivaji and his son Sambhaji in Agra. Sambhaji was just nine years old. He had to stand behind the Mughal military commanders. Aurangzeb asked him to return his forts and serve the Mughals as military commander but he denied. However, Shivaji was able to escape from Agra by bribing the guards.
After his escape, Jaswant Singh tried to maintain peace between Mughals and Shivaji. Aurangzeb also offered him the title of Raja from 1666 to 1668. He granted Shivaji's son Sambhaji to go to Berar and collect revenue. Aurangzeb also appointed Sambhaji as Mughal Viceroy in Aurangabad at that time.
The Mughals and Shivaji had the peaceful relations until 1670.
Accession to the throne
Shivaji had obtained wealth and land on a large scale. Formally he was still a Mughal zamindar. Bhosale was equally eligible to be the king. He didn't have this title officially. Moreover, Brahmins denied him to be crowned as king as he was from a shudra varna. The society wanted the king from a kshatriya varna. Brahmins also noticed that he never had the sacred thread ceremony. Thus he did not wear it. Gaga Bhatt who was a pandit for Varanasi proved that Shivaji's ancestors belonged to the Sisodia Rajputs. Therefore he was a kshatriya. So the sacred thread ceremony was held to make him wear the sacred thread.
On 6th June 1674, Shivaji Bhosale became the king of Maratha swaraj at Raigarh fort. More than 50 thousand people gathered in the ceremony. It was a lavish ceremony at Raigarh.
Death and succession
In march 1680, Shivaji fell ill with dysentery and fever. He died in April 1680 at the age of 50. Putlabai, his eldest wife, jumped into his funeral and devoted to Sati. She did not have any children. One of his wives Sakvarbai also devoted to Sati. She had only a girl. After Shivaji's death, Soyarabai planned with administrative ministers to crown his own son Rajaram instead of his step son Sambhaji. Sambhaji was the eldest of all the sons.
On April 1680, Rajaram was crowned. He was just 10 years old. Sambhaji killed the commander of the Raigarh fort and took its ownership. On 20th July 1680, he finally ascended to the throne. Soyarabai, her son Rajaram and his wife Janki Bai imprisoned. They had the charges of plotting against Sambhaji.