Akshardham Temple in Delhi has its original name Swaminarayan Akshardham which is a hindu spiritual and cultural complex. The temple was built by hindu denomination "Bochasanwasi Akshar Purushottam Swaminarayan Sanstha" (BAPS). It was built under the guidance of the president or guru of BAPS Pramukh Swami Maharaj. The architecture of the temple was encouraged by Yogiji Maharaj who was the fourth spiritual successor of Swaminarayan in BAPS.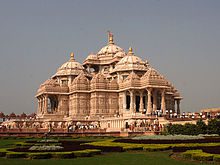 Visiting Detail
Location: Noida Mor, New Delhi, Delhi 110092
Timings: 9:30 am to 6:30 pm
Closed: Monday
Entry: Free (Chargeable for Exhibition: Rs.170/person | Rs. 100/child | Rs. 125/Senior Citizen)
Type: Hindu Temple
Deity: Swaminarayan
Religion: Hinduism
Architect: Vikram Lall
Construction Completed: 6th Nov 2005
Overview
Akshardham means the house of Swaminarayan as per Swaminarayan Sampradaya. The followers of Swaminarayan worshipped him as God. Swaminarayan was monk or yogi who followed Dharma and Brahmacharya. His followers believed him as an avatar of God.
Akshardham temple was opened publicly on 6th November 2005 by Pramukh Swami Maharaj. Dr. A. P. J. Abdul Kalam, Dr. Manmohan Singh and L.K Advani were the main guests in this opening ceremony.
Akshardham temple was constructed as per Indian traditional Vastu Shastra and Pancharatra shastra. Akshardham in Delhi is similar to the Akshardham temple constructed in Gandhinagar, Gujarat. The center of attention is the main shrine in the temple which is located in the center of the temple. The temple has many showcases or exhibition halls which describe the life of Swaminarayan.
One of the important features of the temple is the Abhisheka Mandap. Abhisheka means bathing of worshiping deity. It has Sahaj Anand water show, Sahajanand Darshan (Hall of Values) and a theme garden. The temple has Neelkanth Darshan which is a film describing the early life of Swaminarayan when was a teenage yogi. There is also a cultural boat ride named Sanskruti Darshan.
Attractions near Akshardham Temple
Sunset Point, Akshardham:

Distance: 1.0km

Yamuna River View Point:

Distance: 2.8km