This article is about the life history and some interesting facts about the Second wife of Shah Jahan – Mumtaz Mahal. She was the chief queen consort of the Mughal Emperor Shah Jahan from January 1628 to June 1631. Shah Jahan built Taj Mahal in the memory of Mumtaz Mahal which is known to be one of 7 wonders of the world. Arjumand Banu Begum was her real name who was born in Agra. She was the daughter of Abu'l-Hasan Asaf Khan and the niece of Nur Jahan (the twentieth wife of Jahangir).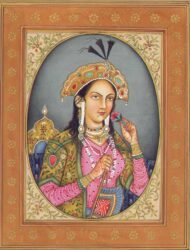 Quick Facts
Arjumand was married to Prince Khurram (later known as Shah Jahan) at the age of 19 in April 1612 and became Shah Jahan's second wife. Both of them had 14 children including Jahanara Begum who was Shah Jahan's favorite daughter. Mumtaz died in Burhanpur (in Madhya Pradesh) during the birth of her 14th girl child named Gauhar Ara Begum in 1931.
Shah Jahan built Taj Mahal as a tomb in the memory of long-lasting love for Mumtaz Mahal. The monument – Taj Mahal is one of the seven wonders of the world and one of the most visited historical monuments.
Family of Mumtaz Mahal
Mumtaz's childhood name was Arjumand Banu. She was born in a persian honorable family in Agra. His father was a rich persian noble who had high office in the Mughal Empire during that time. Her grandparents came to India in 1577 when her grandfather Mirza Ghiyas Beg got the opportunity to serve the Mughal Emperor Akbar in Agra.
Asaf Khan, father of Mumtaz was the elder brother of Nur Jahan. Mumtaz was the niece of Nur Jahan who later became her step daughter in law when she became the twentieth wife of Jahangir (Shah Jahan's father).
Mumtaz had an elder sister, Parwar Khanum who married the son of Qutubuddin Koka named Sheikh Farid who was also the foster brother of Jahangir.
She had a brother, Shaista Khan who served the governor of Bengal and other provinces during the reign of Shah Jahan.
Early Life of Mumtaz Mahal
Mumtaz was an accomplished and artistic woman. She had learned Arabian and Persian languages which she was able to use to write poems. Mumtaz was very honest, straightforward still puzzled. Sha had attracted the observation of many nobles with her wisdom during her teenage. Thus when Jahangir heard about her, he wanted her to engage her son Shah Jahan with her.
Marriage
Engagement of Mumtaz with Shah Jahan
In January 1607, Mumtaz Mahal was engaged with Shah Jahan. She was just 14 and Shah Jahan was 15 years old that. He married to his first wife Kandahari Begum in 1609. It is believed that his first marriage was a political alliance. And thus Mumtaz was betrothed to Shah Jahan for 5 years.
Marriage after Five years of engagement
Mumtaz was married to Shah Jahan after five years of betroth (engagement) on 30th April 1612 in Agra. It was a love marriage. Shah Jahan called her with the name Mumtaz Mahal which means "The Exalted One of the Palace" after marriage. Though Shah Jahan married to his third wife Izz-un-Nissa Begum in 1617. This marriage was also considered to be the political alliance.
Companion of Shah Jahan
It is said that though Shah Jahan married five times in his lifetime but he had deep feelings only for Mumtaz. In spite of repeated pregnancies Mumtaz had travelled with Shah Jahan for his regular military campaigns. Both of them loved to spend time together. She was his constant companion.
Mumtaz and shah jahan children
Mumtaz and Shah Jahan had 14 children with 8 sons and 6 daughters in their 19 years of marriage. Out of 14 children, 7 died either at birth or at very young age.
Names of children:
Sultan Lutfallah
Shah Shuja
Jahanara Begum
Dara Shikoh
Gauhar Ara Begum
Aurangzeb
Sultan Daulat Afza
Huralnissa Begum
Roshanara Begum
Murad Bakhsh
Husnara Begum
Sultan Ummid Baksh
Mumtaz as Mughal Empress
After accession to the throne in 1628, Shah Jahan appointed Mumtaz as his chief impress and gave her the title "Malika-i-Jahan" which means the "Queen of the world". Mumtaz served as Mughal Empress for 3 years only because of her early death. She was the only Empress who was provided with the luxurious lifestyle. Khas Mahal was her residence which was beautifully decorated with precious stones and gold. There was also a rose water fountain around the Khas Mahal.
Mumtaz was getting highest yearly allowance of Rs. one million in comparison to other wives from Shah Jahan. Shah Jahan always used to seek advice from Mumtaz in both private and political matters. He had so much trust in Mumtaz that he had given her the highest honor of the land, Mehr Uzaz.
Mumtaz used to provide pensions to the daughters of the poor people. In free time she liked to spend time in Zahara Bagh which was the river side in Agra.
Death
Mumtaz Mahal died due to postpartum haemorrhage on 17th June 1631 in Burhanpur during the birth of her 14th child. She was in continuous pain during the labor for more than 30 hours. Initially her body was buried in Burhanpur in Zainabad which was constructed by Shah Jahan's uncle Daniyal on Tapti river bank. Shah Jahan was so much scattered after her death that he went to the silent grief for a year.
Jahanara Begum was their eldest daughter helped his father to get out this grief. On December 1631, her body was exhumed and taken back to Agra in a golden casket by her son Shah Shuja.
Taj Mahal
After the return of Mumtaz's body in Agra, Shah Jahan started designing a mausoleum in the memory of Mumtaz. It was Taj Mahal which was created by Shah Jahan for undying love f Mumtaz. It is also known as one of the greatest wonders of the world. After the death of Shah Jahan, Aurangzeb buried his father's body next to the body of Mumtaz Mahal in Taj Mahal.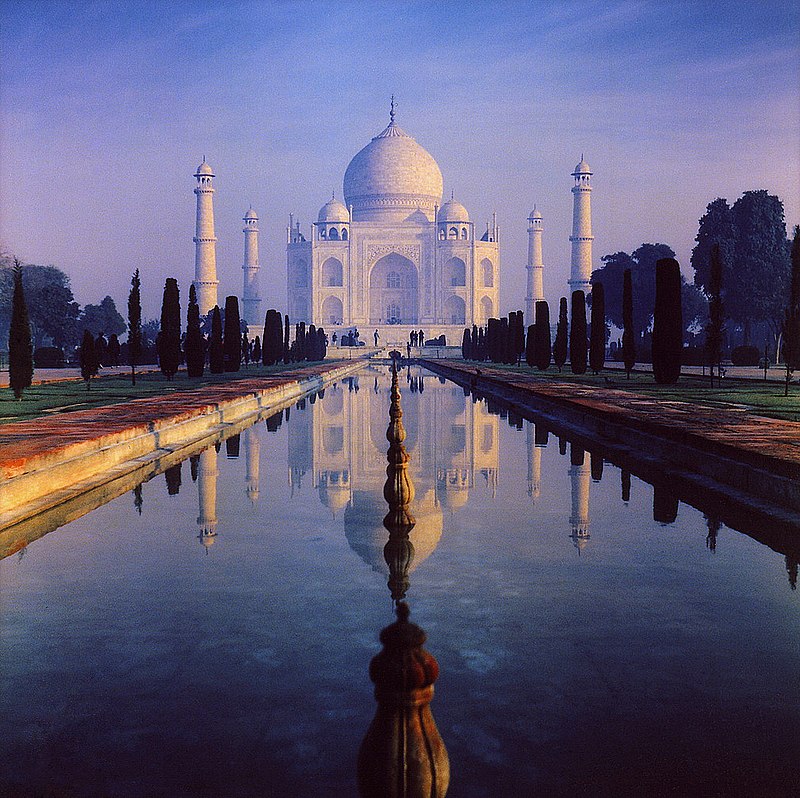 Popularity of Mumtaz Mahal
Literature
Arjumand Banu is the main character in the novel, The feast of roses in 2003. Shadow Princess in 2010 which was a sequel of this novel begin after her death.
A cat named after Mumtaz Mahal, played a major role in the novel launched in 1997. The novel's name was "to say nothing of the dog".
Sanja Chandrachur's novel, "Trouble at the Taj" released in 201. Mumtaz Mahal is the main character, but her role appears in the book as a ghost.
Marble Sky the novel launched in 2013 by John Shors.In this novel Taj Mahal's daughter princess Jahanara tells the story of Taj Mahal, describes her own life as an agent of this creation and the witness of the events surrounding its completion.
Films
Enakshi Rama Rao played the character of Mumtaz Mahal in the movie Shiraaz released in 1928.
A silent film by Homi master named Mumtaz Mahal was released in 1926.
Suraiya, one of the leading actress of her era also played the role of young Mumtaz Mahal in the movie Taj Mahal released in 1941.
A film with the name Taj Mahal released in 1957 which was based on Hindi language drama by Ram Daryani.
A film starring Asokan and Shakuntala with the name Shahzadi Mumtaz was released in 1977
In an Indian historical drama, Taj Mahal Purnima Patwardhan played the role of Mumtaz Mahal released in 2003.
Bina Rai also played the role of Mumtaz Mahal in the movie Taj Mahal released in 1963.
Actress Nasreen also portrayed the role of Mumtaz Mahal in a film Named Shahjahan released in 1946.
Mumtaz Mahal is an Indian film which is based on the life of Mumtaz Mahal released in 1944.
Sonya Jehan also portrayed the role of Mumtaz Mahal in the movie Taj Mahal – an eternal love story which was released in 2005.
FAQs
When was Mumtaz Mahal born?
27th April 1593
Where was Mumtaz Mahal born?
Agra
How old was Mumtaz Mahal when she died?
38 years old
Where Mumtaz Mahal died?
Burhanpur (Madhya Pradesh)
When was Mumtaz Mahal married to Shah Jahan?
10th May 1612
Who built Taj Mahal?
Shah Jahan
Why did Shah Jahan built Taj Mahal?
Shah built Taj Mahal in the memory of her second wife Mumtaz Mahal.