Jehangir Art Gallery
Jehangir Art Gallery is one of the most renowned art galleries located in Kala Ghoda, Mumbai. It is an art gallery which was founded by Sir Cowasji Jehangir with the help of of K. K. Hebbar and Homi Bhabha which was inaugurated on 1952. The gallery is a hub for art lovers and enthusiasts for over 60 years having four exhibition halls, a diverse range of artwork, including paintings, sculptures, photographs, and installations. The building was designed by G.M. Bhuta, a famous Indian architect which is a beautiful blend of Indian and Western styles.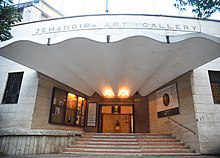 Visiting Detail
Location:

161B, Mahatma Gandhi Road, Kala Ghoda, Fort, Mumbai, Maharashtra-400001

Timings: 11:00 am to 07:00 pm
Closed On: Open all 7 days
Entry Fee: free
Type of Attraction: Auditorium and Art Gallery
Year of Construction: 1952
Founded by: Sir Cowasji Jehangir
Designed by: Durga Bajpai
Website: https://jehangirartgallery.com/
---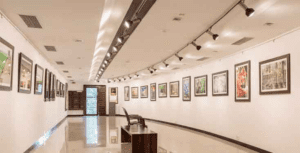 Exhibits at Jehangir Art Gallery
Jehangir Art Gallery has a great collection of art forms from paintings and sculptures to installations and mixed media.
There is an annual exhibition called 'Monsoon Show,' which features artworks by new artists.
Another popular exhibition at the gallery is the 'Kala Ghoda Art Festival,' which is held annually in the month of February.
The gallery also hosts solo and group shows by established artists.
Famous Artists and their works at the Gallery
The visitors to the gallery will have the privilege of seeing works of art by renowned Indian artists such as M.F. Hussain, S.H. Raza, and F.N. Souza, to name just a few.