Sassoon Dock Fish Market
Sassoon Dock was built in 1875. It is one of the oldest docks in Mumbai and was the first wet dock constructed in Bombay. It is one of the rare docks (an area of a port where ships stop for loading and repairing) in the city which is open for the public. The market is located in Mumbai harbor in South Mumbai in area of Colaba, owned by the Mumbai Port Trust. It is also one of largest fish markets in the capital city.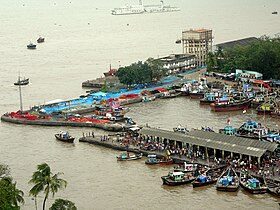 Visiting Detail
Location: Azad Nagar, Colaba, Mumbai, Maharashtra – 400005
Closed: pen all 7 days
Market Timings: 5.00 am to 5.00 pm
---
History
Sassoon Dock was established in 1875 on the damaged land. It was owned by the mercantile company David Sassoon & Company. The Sassoon Docks were reportedly the first commercial wet dock in western India which are known to help establish the cotton trade. Later, in 1879, the government purchased the Sassoon Docks and other associated foreshore properties on behalf of Bombay Port Trust. The Sassoon Docks supported the Bombay Presidency to help promote the construction of the large Prince's Dock. The Sassoon factories producing silk and cotton goods in Bombay also helped in the promoting the employment for a large group of local people.
Recognition
In 2017, The Sassoon Dock participated in providing the space for the street art exhibition. Around 30 artists from around the world participated in the exhibition held in this 142 year old Sassoon Dock. The exhibition opened publicly on 11th November 2017.
---