Shri Siddhivinayak Temple
Siddhivinayak temple in Mumbai is a Hindu temple devoted to the Lord Ganesha. It is in Mumbai is one of the richest temples in India. This temple is devoted to Lord Ganesh. It is located in Prabhadevi, Mumbai, Maharashtra, India. Laxman Vithu and Deubai Patil were the two persons who originally built it on 19the November 1801.
Inside the temple
There is a small holy place in temple where people sit and ask for their wish. The doors to the sanctum are wooden having carved images of Ashtavinayak. In Maharashtra, Ashtavinayak means the eight manifestations of Ganesha. The central statue is of Ganesha and the inner roof of the sanctum is gold plated. There is a Hanuman temple in the outskirts of the temple. There is a dome in the exterior of the temple igniting with multiple colors during the evening hours. The lights continue changing their colors every few hours. The statue of Shri Ganesha is placed under the dome. The pillars are shaped out with the images of ashtavinayak.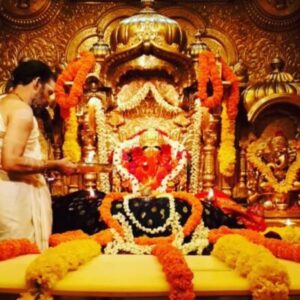 Visiting Detail
Location: SK Bole Marg, Prabhadevi, Mumbai, Maharashtra-400028
Timings: 05:30 am to 10:00 pm
Closed: Open all 7 days
Type: Hindu Temple
Deity: Ganesha
Religion: Hinduism
Built By: Laxman Vithu & Deubai Patil
Construction Completed: 19 November 1801
Important links: https://www.siddhivinayak.org/
---
Important links
History
A rich Agri woman Deubai Patil had funded for the temple. It is said that she was childless because to infertility. She built this temple so that lord Ganesha would fulfill the wishes of her by granting them the child.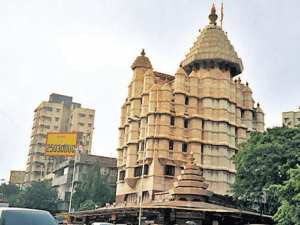 A small Hanuman shrine was built in the temple complex in 1952. Then in 1950s and 60s, the popularity of the temple proliferated due to which many devotees began visiting the temple. Though the owner of the land sold some of the properties of the temple complex at the same time which increased the land area. But the number of devotees increased dramatically in 1975.
Significance of the temple
The Siddhivinayak temple has emerged from a small holly place to the big rich temple in the later half of the twentieth century. The temple is famous among the politicians as well as Bollywood personalities who strive for the blessings of the Lord Ganesha.
The temple authorities have been providing various kind of puja for the devotees.
Dispute
Usually donations of around US$1.3 million to US$2.0 million comes into the account of Shree Siddhivinayak temple every year. This is the main reason which makes the temple the most richest temple trust in Mumbai city. It was also observed some of the misconduct donations in 2004 in the temple trust. It was found in the investigations that no rule or method was followed for certain organizations. Only trustees references or the misinters were making the selections in the temple trust which was not generic.
---