Back in ancient days, Nur Jahan was one of the most renowned women. She was the twentieth wife of the mighty emperor of Mughal Jahangir. She was his favorite wife. Thus she had the power to use her innovative thoughts and skills in culture, economics, the political field, and administration.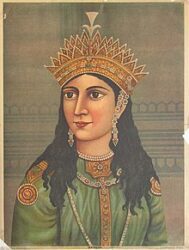 Quick Facts
Full Name

: Nur Jahan (Mehr-un-Nissa)

Born: 31st May 1577
Died: 17th December 1645
Predecessor: Saliha Banu Begum
Successor: Mumtaz Mahal
Religion: Shia Islam
Dynasty: Timurid (By Marriage)
Spouse: Sher Afgan Khan, Jahangir
Father: Mirza Ghiyas Beg
Mother: Asmat Begum
Famous as: Padshah Begum | Wife of Jahangir
Her childhood
Her birth name was Mohr-un-Nissa, and she took birth in a very decent Persian family. They had to move to India when they lost everything. Her father had a belief that the birth of Nur was meant for great things.

Thus, he named her Mehr-un-Nisa, which means "Sun among Women." She was always appreciated and had generous support from her parents since her birth. She acquired a good education, and her father made sure of that. He was a treasurer of Kabul and took good care of her education.
Her teen years and meeting with Jahangir
She got married to a soldier of Persia when she was just 17. He had a great career in the military. Nur became a widow after a few years of marriage and was left with her daughter, whose name was Ladli.

In 1607, she got a position as a lady-in-waiting in the court. At the same time, she got to meet Jahangir, who was Emperor of Mughals back then.

It has been said that Jahangir first saw her during the spring festival of Nauroz in the year 1611. It has been further reported that Nur was beautiful, and we cannot deny this fact- Jahangir got married to her within two months of meeting her. She was such a beauty!

She was earlier titled Nur Mahal but then changed to Nur Jahan in the year 2016. The meaning of Nur Jahan is "World's Light."

According to some sources, Nur and Jahangir were in love when she was still married and her first husband. And both of them didn't marry for so many years when she was a widow- some people believe this side of the story while others don't.

While some people say that Nur Jahan and Jahangir met in a palace garden, they believed what they had was love at first sight.
She ruled the court
The age of Nur Jahan was 35, and she was a widow when she got married to Jahangir. She was charismatic, mesmerizing, and so beautiful. Her beauty was enchanting enough, which made Jahangir adore her.

She was one of the wives and concubines of Jahangir. Within nine years, she got all the rights and power due to the Mughal emperor. Thus, she eventually got control over the entire empire.

Jahangir was an addict to both opium and alcohol. Thus, it allowed her to be in charge of the empire in the name of Jahangir.

She had a luxurious life, spending money on beautiful jewelry, perfumes, silks, etc. Nur was from the lineage of poets. Thus she used to write as well. Many other women of court used to write too. Thus, contests related to poetry used to be held often in the court.
Two sons started fighting for the empire after the death of Jahangir. Nur was in favor of the prince Shahryar. She had a hope that she will keep ruling with the help of this prince. On the other hand, the brother of Nur was in favor of the second son, whose name was Shah Jahan. However, Shah Jahan was the one who won, and he kept Nur under house arrest. While she was house arrested, she created memorials, designs, and wrote poetry named "Makhfi." She took her last breath in the year 1645.