Raja Udai Singh was a Rajput ruler of Marwar (a region in Rajasthan) and famous by the tag name Mota Raja, meaning the fat King. He was the king of Marwar from 1583 to 1595. Later, Marwar was known as Jodhpur (nowadays in Rajasthan).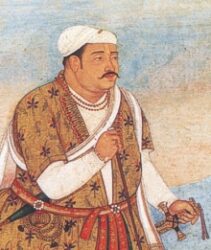 Quick Facts
Full Name: Udai Singh
Reign: 1583 to 1595
Born: 13th January 1538
Died: 10th July 1595
Religion: Hinduism
Spouse: 27 wives
Father: Maldeo Rathore
Mother: Swarup Devi of Khairwa
Famous as: Raja Udai Singh of Marwar
Early Life
Udai Singh's father Maldeo rathore died on 7th November 1562. His younger brother, Rao Chandra Sen inducted himself in Jodhpur capital. Although, All Of his brothers and Rajput leaders except Mewar where against of him. As a result in the war with Mughal Empire he was left alone and was isolated. The army of Akbar occupied some areas of Jodhpur in 1564.
After the death of Chandra Sen in 1581, the Marwar kingdom was shattered. Some parts of Marwar was distributed to Rajput leaders who were against Chandra Sen Rao and they helped Mughals against him. Now the Raja of Bikaner was the governor of Marwar instead of the sons of Raja Maldeo.
Later life
Later in 1583, Udai Singh became the king of Marwar on favour of the emperor. Now had most of the territories of Marwar whereas some of the territories were given to the kings of Amber and Bikaner.
Udai Singh unlike other kings joined the service of the Mughal Empire. His daughter Jagat Gosain also got married to the Mughal prince Jahangir on his wish. Though marriage between a hindu and a muslim was a shameful event for hindus during that period but Raja Udai Singh had no such shameful thoughts on this. And Jahangir belonged to a hindu family from her mother's side.
Cause of Kalyandas death
According to a historian Norman P. Ziegler, Kalyandas became offensive at Uday Singh on his agreement of getting his daughter married to Jahangir. Even he was threatening him to kill both of them. As per him, the marriage of a hindu girl to a muslim guy is the violation of honor of Rajput. When Akbar heard this news of threatening of Uday Singh by Kalyandas, he immediately ordered his men to kill Kalyandas. It is said that his opposition of marriage between Jahangir and Jagat Gosain was the prime cause of the death of Kalyandas. Akbar then fled to Siwana fort (in Rajasthan) in 1589 alongwith Udai Singh. Kalyandas died while fighting.
Death of Uday Singh
Udai Singh died on 10th July 1595 in Lahore, Punjab. After his death his son Sur Singh succeeded him.