Karuvaki or Kaurvaki was the empress consort of the Maurya Empire and the second wife of the third great Mauryan Emperor Ashoka. She was the powerful and only wife of Ashoka whose name is mentioned in the edicts and inscriptions of Ashoka. She had a son prince Tivala who was the favorite child of Ashoka. Tivala who was the only son of Karuvaki and Ashoka who died before Ashoka. However, he served as Viceroy of Takshashila in the presence of Ashoka.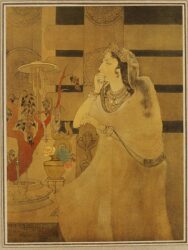 Quick Facts
Full Name: Karuvaki or Kaurvaki
Born: 288 BC
Died: Not known
Dynasty: Maurya
Religion: Buddhism
Spouse: Ashoka
Father: A fisherman
Famous as: Empress Consort of Maurya Empire | wife of Ashoka
Who is Karuvaki?
A historian M.N. Das has written that she was the daughter of the Kalinga King Jagannath. King Jagannath had converted himself to Buddhism and became a Sanyasi. Das has also mentioned that she was the reason behind the attraction of Ashoka towards Buddhism.
As per Ashokavadana, Karuvaki was a fisherwoman. Ashoka meet her in Kalinga when Bindusara appointed him in that location. He fell in love with her and married her.
As per the edicts of Ashoka, he had high impact of the advices of Karuvaki. Her advices changed his lifestyle and thoughts of life. It proves she was an influential Ashoka's queen.
Death
According to the historical proofs she later converted herself into Buddhism and became a sanyasin too. Though the mystery behind her death is not clear. Some of the historians have also mentioned that she died in the Kalinga war. Whereas some say that she was alive after the death of Ashoka. That's the reason she converted herself into Buddhism and became a sanyasin.
Popularity of Karuvaki in culture
Role of Karuvaki has played by Kareena Kapoor in bollywood movie 'Asoka' in the year 2001.
The character of Karuvaki has been played by Reem Sheikh and Soumya Seth aired on Colors TV started in 2015 in periodic drama 'Chakravartin Ashoka Samrat'.
Kalinga Literary Festival has also acclaimed 'Kalinga Karuvaki Award' to honour Karuvaki.
Shreyas Bhave had produced the Ashoka trilogy 'The Prince of Pataliputra' where she is the lead character.