Ruqaiya Sultan Begum was Akbar's first wife. Ruqaiya was the longest serving Mughal empress from from 1557 to 1605 having more than a 50 years of tenure.She was also the queen consort of the Mughal Empire between 1557 and 1605. Ruqaiya was the empress consort for a very long duration which was more than 50 years.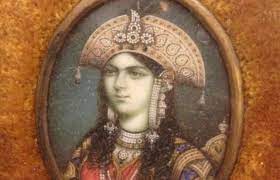 Hindal Mirza, Ruqaiya father was the youngest brother of Akbar's father Humayun. So she was the cousin of her husband, Akbar. She was engaged to Akbar at the age of 9 and got married to him when she completed 14. Ruqaiya did not have any child through out her marriage. Later, she adopted Khurram (future Shah Jahan) who was the child of Jahangir and Jagat Gosain and grandson of Akbar. She had significant love and affection for Khurram.
Quick Facts
Full Name

: Ruqaiya Sultan Begum

Born: 1542
Died: 19th January 1626
Religion: Islam
Dynasty: Timurid
Spouse:

Akbar

Father:

Hindal Mirza

Mother: Sultana Begum
Famous as: Shahzadi of the Mughal Empire | First Wife of Akbar
Family
Ruqaiya Sultan Begum was born as the Mughal Princess in a Sunni Muslim dynasty. She was one and only daughter of Hindal Mirza, the Mughal Prince and youngest son of the Mughal Emperor Babur and Dildar Begum (Babur's wife). Ruqaiya was giver her name after Ruqayyah bint Muhammad, daughter of Islamic Prophet Muhammad.
Ruqaiya's mother Sultana Begum was the younger sister of Mahdi Khwaja and the daughter of Muhammad Musa Khwaja. Mahdi Khwaja who was the brother-in-law of Babur who was the husband of his sister, Khanzada Begum. Humayun was her eldest paternal Uncle who later became her father-in-law too. Gulbadan Begum was her paternal Aunt who was the royal princess and the most pronounced Aunt. Gulbadan is also the writer of the book Humayun-Nama (meaning Book of Humayun). Ruqaiya was the successor of Timur dynasty through Miran Shah.
Ruqaiya's marriage with Akbar
Hindal Mirza died on 20th November 1551 in a battle while fighting for Humayun against their half-brother, the forces of Kamran Mirza. Humayun was extremely sad on the death of his youngest brother.
Humayun engaged Hindal's nine year old daughter, Ruqaiya to his son Akbar in Kabul, Afghanistan soon after Akbar's first appointment as a viceroy in the province of Ghazni. He had discussed with his important courtiers about all the wealth, army and adherents of Hindal Mirza, and Ghazni which were to be given to Akbar.
Humayun died in 1556 and during this period there was political uncertainty. Ruqaiya was staying in Kabul along with other female members of the imperial family. She came to India in 1557 and joined Akbar in Punjab soon after the defeat of Sikandar Shah and submitted under Mughal's army. Hamida Banu Begum, her mother-in-law and her aunt Gulbadan Begum accompanied her.
Ruqaiya and Akbar's wedding took place near Jalandhar, Punjab. Both of them were just 14 years old. At the same time, her 18-year-old first-cousin, Salima Sultan Begum, married Bairam Khan, Akbar's older regent. After staying for four months in Punjab, the family set out for Delhi. Now the Mughals were ready to stay in India.
Adoption of Shah Jahan
Ruqaiya became the Mughal Empress at the age of fourteen in 1556 following her husband's accession to the throne. She lasted childless throughout her marriage. But she took the main responsibility of Akbar's favourite grandson, Prince Khurram upbringing who later became emperor Shah Jahan. The adoption of Prince Khurram increased her rank and power in the imperial harem. She became the most the special privileged women in the Mughal Empire. When Khurram was born in 1592, he was just six days old when Akbar ordered that the prince will be taken away from his mother, Jagat Gosain, and handed over to Ruqaiya to take care of his upbringings. This way Akbar was able to fulfill his wife's wish to raise a Mughal emperor.
Ruqaiya took care of Khurram's education too. Prince Khurram and Ruqaiya shared a close relationship with each other. Akbar always recognized him as his real child. Jahangir also mentioned in his memoirs that Ruqaiya used to love Khurram, "a thousand times more than if he had been her own son.
Khurram's return to Jagat Gosain
Khurram remained with her until the age of 14. After Akbar's death in 1605, it was decided to handover the prince Khurram to his was biological mother, Jagat Gosain. Later, Ruqaiya Sultan Begum also brought up Khurram's first child daughter, Parhez Banu Begum born to his first wife (Kandahari Begum).
Ruqaiya as an empress
The Empress was active in the court politics and she had considerable influence over Akbar. She had played an important role in negotiating a settlement between her husband and her step-son, Salim (later known as Jahangir), when the father-son's relationship turned worse in the early 1600s.
There was a time when Ruqaiya and her mother-in-law, Hamida Banu Begum, had put a great effort for a Sunni Muslim who had killed a Shia in Lahore. Jahangir was in his reign that time, Ruqaiya and Salima Sultan Begum played a major role in securing pardon for the powerful Khan-i-Azam, Mirza Aziz Koka, who were sentenced to death by Jahangir.
Ruqaiya owned many palaces outside the fort in Agra other than her own palace in Fatehpur Sikri. In 1607, Ruqaiya also made a pilgrimage to the Gardens of Babur in Kabul.
Popularity of Ruqaiya Sultan Begum
There is an important role of Ruqaiya in Harold Lamb's historical novel (Nur Mahal) published in 1935.
Ruqaiya is a central character in the historical novel Nur Jahan's Daughter (2005) of Tanushree Podder.
Indu Sundaresan's novel has the main character of Ruqaiya, The Twentieth Wife (2002) and The Feast of Roses (2003).
Lavina Tandon has played the role of Ruqaiya in Indian TV serial Jodha Akbar.
Deepika Amin has played the role of Ruqaiya in TV channel's critically acclaimed historical drama Siyaasat.
Death of Ruqaiya
Ruqaiya died at the age of 84 in 1626 in Agra. Her husband was not living with her for the last 20 years. She was buried in the Gardens of Babur (Bagh-e-Babur) in Kabul, Afghanistan on fifteenth level. Her grandfather, Babur including her father Hindal Mirza were also buried in The Gardens of Babur. Her foster son Shah Jahan had ordered to build her tomb.