The meaning of Jagat Gosain is the "Mistress of the world". Jagat Gosain Begum was the wife and the queen consort of Jahangir and the mother of Shah Jahan (5th Mughal Emperor). The real name of Jagat Gosain is Manavati Baiji Lal Sahiba. She was the princess of Jodhpur and so also known by the other name – Jodh Bai. Jagat Gosain Begum was the daughter of the Rajput ruler Raja Udai Singh from Marwar (now known as Jodhpur).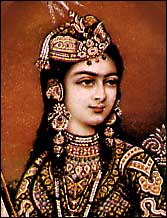 Quick Facts
Real Name

: Manavati Baiji Lal Sahiba

Born: 13th May 1573
Died: 19th April 1619 (Agra)
Reign: 3rd November 1605 to 19th April 1619
Dynasty: Rathore (by birth) | House of Timur (by marriage)
Religion: Hinduism
Spouse: Jahangir
Father: Raja Udai Singh
Mother: Rani Manrang Devi
Famous as: Empress Consort of Mughal Emperor | Mother of Shah Jahan
Other names of Jagat Gosain Begum
Family and Early Life
Jagat Gosain Begum was popularly known by the name of Jodh Bai belonged to Rajput family. Her father Raja Uday Singh was the ruler of Marwar (now Jodhpur) who was popularly famous by the alias name Mota Raja (meaning fat King). Her mother, Manrang Devi was the daughter of Raja Askaran from Narwar (in Madhya Pradesh).
Maldeo Rathore was her paternal Uncle who was also the ruler of Marwar (Jodhpur). He was a powerful ruler who turned Marwar into a strong Kingdom. He always denied to merge with the Mughal empire after Humayun controlled most of the north India in 1555. His son and successor Chandrasen Rathore also continued this policy. But after the death of Maldeo in 1562, Akbar seized Jodhpur in 1563 with his army. When Chandrasen died in January 1581, Mughal Empire occupied Jodhpur completely. In 1583, Uday Singh became the king of Marwar back and joined the Mughals.
Marriage
After joining the Mughal Service, Raja Uday Singh planned to engage his daughter Jagat Gosain with prince Salim who was the eldest son of Akbar. But as per historian Norman P. Ziegler, Rajput nobles never liked the idea of Rajput Kings to marry their daughters to the Mughals. According to them marrying their daughters to mughal community was regarded to be the sign of shame and dishonour.
The dissatisfaction of the marriage between Jagat Gosain and the Mughal Emperor Jahangir resulted in the rebellion initiated by Kalyandas Rathore. However, this rebellion soon ended after the death of Kalyandas Rathore and siege of the Siwana fort by Raja Uday Singh.
Jagat Gosain married to prince Salim (later known as Jahangir) on 26th June 1586. Prince Salim was 16 years old that time. Though this marriage was political alliance.
Beauty with brain
Jagat Gosain Begum was known for her extreme beauty and charm. She was courageous and quick too in terms of response. These were some of the qualities of Jagat which impressed her husband Jahangir during the initial years of marriage.
Children
Jagat Gosain Begum gave birth to the first child (Begum Sultan) in 1590 but that child died at the age of one. On january 1592 she gave birth to Khurram (meaning "Joyful"). This name was given by his grandfather Akbar. Khurram (later known as Shah Jahan) was the favorite grandchild of Akbar. Jagat Gosain was given the title of Taj Bibi (meaning crown wife) after giving birth to Khurram.
Akbar ordered Khurram to be handed over to his chief wife and grandmother of Khurram, Ruqaiya Sultan Begum who was childless. Ruqaiya had given birth to a still unborn baby which had accepted greatly as her destiny. When Ruqaiya received Khurram, he was just 6 days old. Thus Akbar fulfilled his wife's wish to have the child. Moreover, he wanted to raise Khurram as a mughal emperor as Jagat belonged to a hindu family by birth. In return, she was fortified with precious gifts including rubies and pearls.
Ruqaiya took good care of prince Khurram until he grew up. Khurram remained with Ruqaiya till 14 years of his age and she loved him thousand times more than his own son. She shared a close bonding with Khurram during these years.
In the year 1605 after the death of Akbar, Khurram returned to his own biological mother Jagat Gosain Begum. That time he completed 14 years and became closer to his own mother.
Jagat gave birth to her third child in 1597. She was a girl named Izzat-un-nissa who also died during the first year.
Jagat Gosain Grandchildren
Roshanara Begum: (Second daughter of Shah Jahan and Mumtaz Mahal)
Aurangzeb: (Third son and sixth child of Shah Jahan and Mumtaz Mahal)
Shah Shuja:

(Second son of Shah Jahan and Mumtaz Mahal)

Jahanara Begum:

(Eldest child of Shah Jahan and Mumtaz Mahal)

Dara Shikoh:

(Eldest son of Shah Jahan and Mumtaz Mahal)

Murad Bakhsh:

(Youngest son of Shah Jahan and Mumtaz Mahal)

Gauhar Ara Begum:

(Fourteenth and youngest child of Shah Jahan and Mumtaz Mahal)

Parhez Banu Begum: (First child and eldest daughter of Shah Jahan and Kandahari Begum)
Sultan Daulat Afza:

(Son of Shah Jahan and Mumtaz Mahal)

Sultan Luftallah:

(Son of Shah Jahan and Mumtaz Mahal)

Purhunar Banu Begum:

(Daughter of Shah Jahan and Kandahari Begum)

Huralnissa Begum:

(Daughter of Shah Jahan and Mumtaz Mahal)

Shahzadi Surayya Banu Begum:

(Daughter of Shah Jahan)

Husnara Begum:

(Daughter of Shah Jahan and Mumtaz Mahal)

Sultan Ummid Baksh:

(Son of Shah Jahan and Mumtaz Mahal)
Relation with Jahangir
Jahangir started losing interest in Jagat in the early days of their marriage. This became worse after the entry of Nur Jahan into the emperor's life. Jahangir got married to Nur Jahan in 1611. After that Now Nur Jahan remained Jahangir's favorite wife until his death. However, he married to Saliha Banu Begum in 1605 before Nur Jahan who was his chief consort and Padshah Begum. Saliha remained the chief consort until her death in 1620. After her death all these positions and titles were being transferred to Nur Jahan instead of Jagat Gosain Begum.
Death
Jagat Gosain Begum died on 19th April 1619 in Agra. Jahangir gave her the title of Bilqis Makani (meaning "the Lady of Pure Abode") after her death and ordered that this title will be used in all the official documents.
Jagat Gosain Tomb
The body of Jagat Gosain Begum was buried in Suhagpura in Agra in a high tomb surrounded with garden, towers and gateways located in a cantonment area.
Though the tomb was destroyed in 1832 by the britishers through the gunpowder because they wanted to store the brick, stone and the material used in the construction of the site.
Popularity of Jagat Gosain Begum in Culture
The Twentieth Wife (2002):

An award historical novel By Indu Sundaresan (author)

The Feast of Roses (2003)

Siyaasat:

Critically acclaimed historical drama aired on Indian Television | Character of Jagat Gosain played by Nayani Dixit