Nasir-ud-din Muhammad known as Humayun was the eldest son successor of Babur. He was the second ruler of the Mughal Empire. Reign of Humayun in the Mughal territories of Afghanistan, Pakistan, Bangladesh and Northern India started from 1530 to 1540 and from 1555 to 1556. When Nasir-ud-din Muhammad Humayun became the successor of his father, Babur he was just 22 years old. He became the Mughal Emperor of Delhi at 1530. Humayun had not good terms with his half-brother Kamran Mirza. Sher Shah Suri had conquered the Mughal territories from him which he conquered it after 15 years.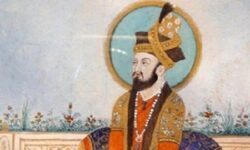 Quick Facts
Full Name: Nasir-ud-din Muhammad Humayun
Born: 06th march 1508
Died: 27th January 1556
Religion: Islam
Spouse:

Bega Begum

,

Hamida Banu Begum

, Mah Chuchak Begum, Khanish Aghacha, Gunwar Bibi, Mewa Jan, Chand Bibi, Shad Bibi
Father:

Babur

Mother:

Maham Begum

Famous as: Second Mughal Emperor
After returning from Persia Humayun made many changes in the Mughal court in terms of advisors and assistants. There are many sculptures and Persian manuscripts in India from the time of Humayun. Babur divided the Mughal territories among his sons. This decision was not common in India at that time. After Babur's death his territories were not secured.
Division of Territories
Babur divided his territories among two of his sons which was uncommon in India that time. Though it was a common practise from the time of Genghis Khan. Timurids did not pass their entire kingdom to the eldest child (son.). Babur ruled only for four years before his death. It was short span of time because of which nobles did not see him as a lawful ruler. When he fell ill, a nobleman tried to replace Humayun with his brother-in-law Mahdi Khwaja as a ruler. But he failed. It was a signal of problems to come.
Reign
Early Reign
When Humayun became the Mughal Emperor, his brothers except Khalil Mirza rebelled against him. As a result, Khalil Mirza was killed. He started the building of a tomb in 1538 in the memory of his brother. It was not finished yet because of his flee to Persia. Then Sher Shah Suri demolished the construction.
Sultan Bahadur of Gujarat and Sher Shah Suri of Bihar were Humayun's two main competitors. He fought with Ahmed Shah and occupied Gujarat, Malwa, Champaner, fort of Mandu. Mughals had acquired firearms via Ottoman Empire. Sultan Bahadur gained them by the contracts with the Portuguese. This in turn helped Portuguese to build position in north western India. In 1535, Humayun marched on Bahadur with an army. In a month he was successful in capturing the fort of Mandu and Champaner.
Humayun's tomb Image Source
Sher Shah Suri
When Humayun occupied Gujarat, Sher Shah Suri found the opportunity to snatch the control of Agra from Mughals. He started gathering the army to siege the Mughal capital. When Humayun got this information, he sent Bahadur back to Agra to regain control of the taken territories. In 1537, Bahadur was killed in the task of kidnapping the Portuguese Viceroy.
Humayun was able to protect Agra from Sher Shah Suri. But Gaur, the historic city of Bengal was getting sacked. The grain stores in Gaur which were largest in the empire were emptied. Dead bodies were littering on the roads and the wealth condition of Bengal was completely depleted. Humayun didn't reply to Sher Shah Suri on this. Instead, he thought to answer him at the right time.
In 1539, both Humayun and Sher Shah Suri met each other in the battle of Chausa. Both of them spent a lot of time poking each other but didn't get any result. That time Humayun's army was stable so he decided to play some diplomacy. He agreed with Sher Shah to rule over Bengal and Bihar but Sher Shah had to withdraw his army as agreement.
Once Sher Shah Suri agreed on withdrawing the army, Mughal army got relaxed. They didn't even post the guards for the security purpose. When Sher Shah saw this, he broke the agreement. He attacked the Mughal army and killed most of the men. Humayun escaped by swimming through Ganges and reached Agra secretly.
In Agra
After returning to Agra, Humayun saw all three of his brothers there. He forgave them too for planning against him. Sher Shah Suri was reaching towards Agra slowly. He and his brother Kamran had an argument on what action to be taken on this.
Kamran wanted Humayun to attack Sher Shah's army but Humayun refused. After his refusal, Kamran left. Humayun and his brothers Askari and Hindal met Sher Shah in the battle of Kannauj on 17th may 1540 in Agra after the return of Kamran to Lahore. Sher Shah defeated Humayun badly. Humayun had to run off from Agra.
In Lahore
Sher Shah Suri was getting closer to Lahore day by day where four brothers joint together. After his reaching to Sirhind, Humayun sent him the message through his ambassador to leave Lahore and to stay in Sirhind only. But Sher Shah Suri denied leaving Lahore. Instead he told him to go to Kabul. Kabul was the capital of Humayun's brother Kamran's Empire.
Kamran was not willing to hand over any of his territories to Humayun. Instead, Kamran told Sher Shah that he wanted to rebel against his brother. He also told Sher Shah that he will help him to get most of the Punjab. But Sher Shah denied this. Soon this information spread in Lahore. As a result, Humayun killed his brother to set an example.
To Sindh
Humayun and his pregnant wife followed on the desert through the hottest time of the year. They had less to eat and drink. Nobody helped Hamid Bano when her horse died. And they had to use camel in place of horse to ride for six hours. This incident was the lowest point of Humayun life. He asked his brothers to join him when fell back to Sindh. Instead of joining Humayun Kamran Mirza and Askari Mirza decided to head to Kabul.
Humayun headed to Sindh as he was expecting support from Sindh but he had to interrupt his journey because of his pregnant wife as she unable to walk. He tool help of Rana Prasad Rao of Amarkot for the shelter where both of them stayed for several months. Hamida Banu gave birth to Akbar on 15th October 1542. And soon after Akbar's birth Humayun with his wife Hamida Banu left Amarkot for Sindh leaving Akbar. Later Akbar was acquired by Askari Mirza.
Retreat to Kabul
Hindal Mirza had once refused to have Khutba recited in Kamran Mirza's name. Hindal Mirza was under house arrest in Kabul by Kamran because of his refusal. Kamran ordered Askari Mirza to march on Humayun with the army. When Humayun received this information, he escaped from the territory. He took help from others to refuge. He left Akbar in a camp near Kandahar. Akbar was just 14 months old. When Askari Mirza found him in the camp, he held him in his hand and cuddled him. He asked his wife to take care of him.
Retreat to Persia
Humayun ran away to Persia along with his wife Bega Begum and an army of 40 men. They were humiliated badly in the Safavid Dynasty for a month until they entered Herat. They had to take the costly food and clothes after entering the city. Humayun and his family got the nice accommodation. Shah Tahmasp treated Him as a royal guest. Humayun had the sightseeing there and got the opportunity to see the Persian art and work.
Shah Tahmasp advised Humayun to convert from Sunni to Shia Islam. He accepted it and kept himself and his followers alive. His brother Kamran Mirza asked Shah to surrender Kandahar in exchange of Humayun dead or alive. But Shah denied. Instead he celebrated for Humayun with 300 tents and 12 musical bands.
Kandahar
After a 2 week siege Humayun succeeded in taking Kandahar from Askari Mirza. In an agreement, Shah of Persia had to take Kandahar. He sent his son Murad as the Viceroy who was an infant. His son died and Humayun thought that he was strong enough to take on power.
Kabul
Humayun was now ready to take Kabul governed by Kamran Mirza. Kamran Mirza was hated as a ruler. When Persian army of Humayun proceeded towards the city, the armed forces of Kamran Mirza changed sides resulting in lowering down his position. Kamran Mirza ran away and started making army outside the city. In 1545, Humayun and Hamida united again with their son Akbar and celebrated a huge ceremony.
Death of Humayun's brothers
Hindal Mirza, Humayun's youngest brother who was earlier disloyal, died fighting for him.
Askari Mirza was tied with chains on command of nobles and advisors. He died in the route of desert while he was travelling to Hajj outside the capital of Syria (Damascus).
Kamran Mirza was repeatedly looking to kill Humayun. In 1552, Kamran tried to deal Islam Shah, the successor of Sher Shah. But he was captured by a Gakhar. Gakhars were loyal to Mughals. So they handed over Kamran to Humayun. Instead of killing Kamran, Humayun left him blinded which also ended his claim to the throne. Humayun sent him to the Hajj because he wanted his brother to get discharged from offences. Kamran Mirza died there near to Mecca in 1557.
Re-establishment of the Mughal Empire
Sher Shah Suri died in 1545. When his son and his successor also died the empire was deteriorating. This was the time when Mughals had the opportunity to return to India and march on Delhi. Humayun marched on Delhi with full force army under the leadership of Bairam Khan. It was his wise decision.
On 22nd June 1555, Mughal army defeated Sikander Shah Suri's army in the battle of Sirhind. Thus Mughals were successful in re-establishing themselves in India.
Humayun's power after brother's death
Now all of Humayun's brothers were died, so he had no fear of siege of his power. Now he was an established and powerful leader and had full trust on his generals. He commenced many military campaigns and had plans to extend his reign over the eastern and western subcontinent.
Personality
Humayun was kind to his dependants and emotionally attached to his son Akbar. He was little unstable on the relation with his brothers. He was a worthy son and the father. Humayun was of forgiving nature. He hardly enjoyed the reign of six month in Delhi when slipped down from the polished steps of his palace and died in his 49th year.
Death
On 24th January 1556, Humayun was in his library, he came down through the stairs after hearing the summons for the prayer. When he was trying to kneel, suddenly his feet clutched in robe and fell down. He injured himself badly. After three days of injury he died. Initially his body was dumped in Purana Quila. After an attack on Delhi by Hemu his body was transferred to Kalanaur in Punjab. Later he was buried in Delhi in a tomb which is also famous by the name of Humayun's tomb ordered by his beloved wife Bega begum.
Humayun's tomb was the very first garden tomb in Mughal architecture before the built of Taj Mahal in Agra.
Biographies
Akbar's Aunty Gulbadan Begum also wrote a biography on Humayun. She was just 8 years old when Babur died and she married at the age of 17 years. Her work has been found very interesting by the few readers.
Many other famous biographies on Babur and Akbar (Baburnama and Akbarnama) including the incomplete biography by Gulbadan Begum can be found in the British library which made an appearance in 1860s.
A British writer Annette Beveridge published the articles in English translation in 1901 and in 2000, English and Bengali editions were released.