The article is about the life of Shah Jahan and his architectural accomplishments. Shah Jahan was the fifth Mughal Emperor who was in power from 1628 to 1658. He was a great patron of Mughal architecture. Shah Jahan is better known for his architectural accomplishments, especially for creating Taj Mahal. Shah Jahan created Taj Mahal in the memory of his second wife Mumtaz Mahal.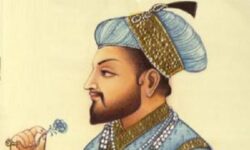 Quick Facts
Real Name: Shahab-ud-din Muhammad Khurram
Born: 5th January 1592
Died: 22nd January 1666
Religion: Islam
Father:

Jahangir

Mother:

Jagat Gosain

Famous as: 5th Mughal Emperor
He was the most efficient and victorious son out of Jahangir's four sons. Mughal empire was in it's peak success during his reign.
Shah Jahan's third son Aurangzeb succeeded him. Aurangzeb proved himself victorious out of Shah Jahan's four sons.
Early Life
Shahab-ud-din Muhammad Khurram was born on 5th January 1592 in Lahore (now a part of Pakistan). He was the third son of Salim. His mother Jagat was a hindu Rajput from Marwar. Khurram was the grandson of the Mughal Emperor Akbar.
Upbringing
Akbar handed over the responsibility of Khurram to his first wife Ruqaiya Sultan Begum who gave birth to the still unborn child. That time Khurram was just 6 days old. She loved him more than her son. Khurram stayed with Ruqaiya Sultan Begum till he was 14 years old.
After Akbar's death 1605, he returned to his biological mother Jagat Gosain. As a Mughal prince Khurram had been receiving martial training and a good exposure to cultural arts like classical music and poetry.
Marriages
Shah Jahan engaged to Arjumand Banu Begum known as Mumtaz Mahal when he was just 15 years old. And after five years of engagement both of them tied the knot. His family patriarch, Mirza Ghiyas Beg was the finance minister and Arjumand's father, Asaf Khan was the chief minister in the Mughal Court. Her Aunt Nur Jahan was a matchmaker in organizing the marriage.
Because he had to wait for five years to get married to Mumtaz Mahal, he married to Kandahari Begum who was his first wife. She was the daughter of the grandson of Shah Ismail of Persia. Shah Jahan and Kandahari Begum also had a daughter as their first child.
After getting married to his first wife Shah Jahan married to Arjumand Banu Begum in 1612 at the age of 20. Banu Begum was later known by the name of Mumtaz Mahal. Shah Jahan was more devoted to Mumtaz Mahal. She had 14 children out of which seven survived.
Mumtaz was a politically intelligent woman who used to help her husband in giving crucial advice related to State matters.
Death of Mumtaz Mahal
Mumtaz Mahal died in 1631 at the age of 38 while giving birth to Gauhara Begum because of postpartum haemorrhage. Her body was buried in Zainabad.
Mumtaz Mahal's death impacted Shah Jahan so much that he constructed Taj Mahal in her memory where her body was reburied. He was only politically connected to other of his wives.
Military Operations
Shah Jahan first tested his military talent during the campaign against the Rajput State of Mewar. He had an army of 200000 men against Mewar State. Maharana Amar Singh surrendered himself after the war.
He dealt with the Lodis in 1617 to secure the Southern borders and re-established control over the region. Jahangir was so delighted with his campaigns that he gave him the title of "Shah Jahan" and lifted his military rank.
Commanding the Mughal Empire
During the reign of Shah Jahan, the Mughal army had 911400 infantrymen, artillerymen and 185000 sowars. Marwari horse was his favorite horse and he had several Mughal cannons produced in the Jaigarh fort. The Mughal Empire during his rule had enormous machines. As a result, the Mughal Empire became much powerful.
Shah Jahan had large armies on different fronts ruled by his sons. During this period of rule by Shah Jahan India became the rich in arts, crafts and architecture along with best architects, Craftsmen, writers and painters.
Famine
From 1630 to 1632 there was an extreme scarcity of food in Deccan, Gujarat and Khandesh because of the main crop failure. As a result, more than two million people died of starvation. Some of the villages demolished completely. Shah Jahan provided free kitchen or langar to help the victims of the famine.
Sikh rebellion
Sikh rebelled under the leadership of Guru Hargobind. In reply to this rebellion, Shah Jahan ordered his army to attack and destroy the Sikh temple in Lahore.
Connection with Safavid dynasty
In 1638, Shah Jahan and his sons conquered the Kandahar city from Safavids. This encouraged the Persians to take revenge. They recaptured Kandahar city in 1649 under the leadership of Abbas II of Persia. The army of Shah Jahan failed to reconquer the Kandahar city. However, the sieges were repeating during the wars between Safavids and Mughals.
Connection with Ottoman Empire
When Shah Jahan had camped in Baghdad, he and his ambassadors met Ottoman Sultan Murad IV. Ottoman offered him 1000 pieces of fine art embroidered cloth and armour. Ottoman offered him the finest weapons and saddles. He also ordered his forces to help Mughal's forces to reach the Basra port and finally reach Surat.
Conflict with Portuguese
In 1631, Shah Jahan ordered Qasim Khan to drive out the Portuguese from Port Hoogly where they had been trading. Qasim Khan was the Mughal Viceroy of Bengal that time. They had heavy weapons of war, cannons and battleships.
Portuguese were smuggling with high Mughal officials. Mughal controlled port of Saptagram started to collapse because of commercial competition between the two forces. Finally in 1632, Mughals took control of the Bandel region and forces of Portuguese.
Architectural accomplishments of Shah Jahan
Taj Mahal
Shah jahan is famous for building Taj Mahal which he built for his beloved wife Mumtaz Mahal. The construction of Taj Mahal took twenty years to complete. It is made of White marble.
Red Fort
His other creation is the Red Fort which is also known as the Lal Qila in urdu. In addition to the Red Fort, he also constructed Jama Masjid, Moti Masjid, Shalimar Gardens, some sections of Lahore fort, Mahabat Khan mosque in Peshawar and Jahangir Mausoleum.
He also created Shah jahan mosque in Thatta, Sindh in 1647. This mosque is the world's largest mosque with 93 domes. One can hear the voice of the person from one end of the dome to the other end if the speech is greater than 100 decibels.
Death
Shah jahan fell ill in January 1666 and his health deteriorated continuously. He died at the age of 74. Princess Jahanara planned a state funeral followed by the march with renowned officials of Agra taking his body. Aurangzeb was not ready for this idea. Thus, they sent Shah Jahan's body to the Taj Mahal to bury his body next to the body of Mumtaz Mahal, his beloved wife.