Kandahari Begum (Qandahari Begum) was also known as Kandahari Mahal. The meaning of her name is "Lady from Kandahar". She was the first wife of Shah Jahan, the Mughal Emperor. Kandahari was the youngest daughter of Sultan Muzaffar Husain Mirza Safavi who was the prince of safavid dynasty of Iran. She belonged to the family of Shah Ismail I who was the founder of the safavid dynasty of Persia.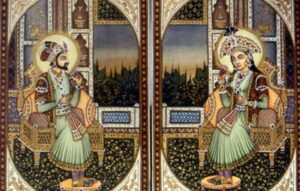 Quick Facts
Full Name: Kandahari Begum
Born: 1593 (Kandahar, Afghanistan)
Died: Around 1650 (Kandahari Bagh, Agra)
Religion: Shia Islam
Dynasty: Safavid (by birth) | Timurid (by marriage)
Spouse:

Shah Jahan

Father: Sultan Muzaffar Husain Mirza Safavi
Famous as: First wife of Shah Jahan
Family of Kandahari Begum
The father of Kandahari Begum, Sultan Muzaffar Husain Mirza Safavi was appointed in the royal house of Persia. The father of Kandahari Begum, Sultan Husain Mirza was the son of Bahram Mirza who was the son of Shah Ismail I. Shah Ismail I was the founder of the Safavid dynasty.
Early Life
Muzaffar Husain Mirza was not satisfied with the ruling authorities of Safavid. And Akbar was in search of finding the opportunity to capture Kandahar. Therefore, Akbar sent Shah Beg Khan Arghun to Kandahar to seize the capital. Muzaffar had to take the decision quickly because of the behavior of Shah Beg Khan. As a result Kandahari Begum had to leave her native place for India along with her father and her 4 brothers, Haider Mirza, Bahram Mirza, Alqas Mirza and Tahmasp Mirza.
It was the year of 1595 when Akbar was into the reign in India. Akbar appointed Muzaffar as the commander of 5 thousand and gave him the title of Farzand. Akbar offered him Sambhal (district in Uttar Pradesh) as Jagir (property).
Muzaffar Husain Mirza left Kandahar for high rank and handsome salary in the service of Akbar. Muzaffar's younger brother Mirza Rustam also came to India who rose to fame under Jahangir. But Muzaffar was not happy with the ruling nature of Mughal Emperors in India. Thus he always visited Persia in order to resolve his issues. Muzaffar died in 1603.
Marriage with Shah Jahan
18 year old Khurram (later known as Shah Jahan) was politically pressurized to marry Kandahari Begum. Though Khurram had strong feelings for his already arranged second wife Arjumand Banu Begum (later known as Mumtaz Mahal). The process of marriage between Kandahari and Shah Jahan took some time. Jahangir sent 50 thousand rupees at Kandahari's residence as a wedding agreement on 12th December 1609. And finally Khurram and Kandahari married in Agra on the same day.
Family relation with Shah Jahan
Both Khurram and Kandahari had family connections. The most closest one was that Jahangir (Khurram's father) was the half brother of Khanum Sultan Begum (Kandahari's stepmother).
Kandahari gave birth to her first child on 21st August 1611 who name was Parhez Banu Begum. Jahangir gave this name to her first child. She was the only child of Kandahari and Shah Jahan. Ruqaiya Sultan Begum (great grandmother of Parehz Banu Begum and first wife of Akbar) took care of the child.
Death
Kandahari died somewhere around 1628 to 1650. Her body was buried in Agra in an extensive garden known as Kandahari Bagh. A mosque was also built in Kandahari Bagh which 3 arched and single dome. The building built over her tomb was destroyed badly in 1707 during the rebellion time. And this also resulted in the death of Aurangzeb.
Kandahari Begum's tomb
Shah Jahan built this tomb at the Kali Masjid complex. Kali Masjid was the first mosque where the labourers and artisans who had arrived to build Taj Mahal use this mosque for prayer 5 times a day.
It is believed that Kandahari loved cats, so one can see lot of cats near the tomb. Generally people come to offer food to cats and they have a belief that if the cats eat their offerings, then their wishes come to true.
Now her tomb does not exist, just the surrounding place along with the entrance gate exists where the tomb was built.
Later British East Company sold this property to Raja of Bharatpur who created modern building on it. That is the reason it is known as "Bharatpur House" nowadays.
Kandahari Bagh
Kandahari Bagh is a garden built by Kandahari Begum itself. It is believed that a mosque is also there in the garden. There is also a tomb in the garden. It is also believed that Kandahari Begum was buried later in the tomb located here. This place was destroyed badly after the death of Aurangzeb by the Britishers.
Kandahari Begum in

popular culture
Trouble at the Taj (2011):

Historical novel | By Sonja Chandrachud

Mistress of the Throne (2014):

Historical novel | By Ruchir Gupta

Taj Mahal: An Eternal Love Story (2005):

Bollywood movie | Character of Kandahari Begum played by Negar Khan