Bega Begum (or also known as Haji Begum) was the first wife and the chief consort of the second mughal emperor Humayun. She was later known as Haji Begum when she conducted the Hajj yatra or pilgrimage.
The queen was from Khurasan and a persian. Her father, Yadgar Beg was her maternal uncle. Yadgar Beg was the brother Sultan Ali Mirza who was the father of Gulrukh Begum, wife of Kamran Mirza. Gulrukh Begum was an educated woman with proficiency in medicine and treatment.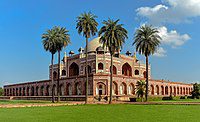 Quick Facts
Full Name:

Bega Begum

Born: c. 1511
Died: 17th January 1582
Religion: Islam
Predecessor: Maham Begum
Successor: Ruqaiya Sultan Begum
Spouse: Humayun
Father: Yadgar Beg
Mother: Not known
Famous as: First wife and chief consort of Humayun
She was the Empress consort of the mughal empire first time from 26th December 1530 to 17th May 1540. She became the Empress consort for the second time from 22nd February 1555 to 27th January 1556.
Bega Begum was the first who started authorizing the building of monuments in the mughal Empire. She had also commissioned the building of her husband Humayun's Tomb in Delhi in late 16th century. Humayun's tomb was the first giant masterpiece in the Mughal architecture in India which also influenced the design of the Taj Mahal.
Marriage
Bega Begum married to Humayun who was also her first cousin. Both of them married when Humayun was the viceroy of the Province (1527-1529) in Badakhshan (in Afghanistan). She gave birth to her first child, Al-aman Mirza. The Emperor Babur congratulated both them on the birth of their son. But the son died in infancy.
Bega Begum as Empress Consort
After the death of the Emperor Babur in December 1530, Humayun ascended the throne. He was just twenty three-years of old that time. Bega Begum was nineteen years old when she became the empress consort. While accompanying her husband, she had visited to India for the first time. Humayun treated her in high regard throughout his life. She remained his his chief consort and favourite wife till his whole life.
In 1531, Bega gave birth to her second child after arriving in Agra from Kabul. She was her last known child which was a girl child with name Aqiqa Sultan Begum.
Bega Begum Imprisoned by Sher Shah Suri
In 1539, Bega followed her husband to Chausa in Bengal. Sher Shah Suri ordered his men to arrest her as a prisoner. It was a well planned surprise attack on the Mughal territory by the forces of Sher Shah Sur. Niccolao Manucci has mentioned in his book that Bega was the only Mughal Empress who was imprisoned.
When Humayun came to know that Bega was imprisoned, he jumped on his horse on 26th June 1539 in the morning along with a guard with four nobles, Tardi Beg, Baba Beg, Koch Beg, and MrBachkhoa Bahadur. They attempted to fight through the Afghan crowd. As a result all were cut down except Tardi Beg. He returned to Humayun alone.
Returning to Humayun
However, Sher Shah had treated the empress with full respect. And at last he returned her to Humayun guarded by his most trusted general, Khawas Khan.
The torture at Chausa resulted in death of her eight-year-old daughter, Aqiqa Sultan Begum unfortunately. Humayun was broken badly due to her death. He had a regret too on bringing her to Chausa. He confessed this to his younger brother Hindal Mirza too.
Bega remained with Humayun even through his long exile in Persia. She was actively participating in the state affairs. .