Lakhuji Jadhav was a noble-man of Sindkhed Raja (in the present-day it is Buldhana district of Maharashtra) in the 16th century. He was born in the same century but exact date is not known. He was a Jagirdar in the court of Nizam Shahi Sultans of Daulatabad (nowadays in Maharashtra).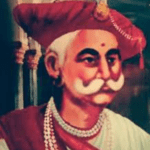 Quick Facts
Full Name: Lakhuji Jadhav
Born: 16th century
Died: 1629
Religion: Hindu
Spouse: Mahalasabai Jadhav
Father: Not known
Mother: Not known
Famous as: Father of Rajmata Jijabai
Family
His daughter, Jijabai, who was the mother of Shivaji, the founder of the Maratha Empire. She was married to an early age to in 1598 to Shahaji Bhosale, who was also a nobleman and a military commander in Bijapur in Karnataka. He was one of the most important sardars in the sultanate of Nizam Shahi. He was known as the champion of the fort of Devagiri.
Lakhuji Jadhav death reason
Nizam Shah had ordered his men in 1629 to kill Lakhuji Jadhav along with his sons and a grandson. During that time his daughter Jijabai was pregnant with Shivaji. The story of his murder has also been stated in Padshahnama of Mughal emperor Shah Jahan.
Shambhu Singh Jadhav was one of the surviving descendants of Lakhuji Jadhav who also fought in the Battle of Pavankhind. Dhanaji Jadhav, his great-grandson and the son of Shambhu Singh Jadhav was the famous Maratha commander.
Descendants
Shambhu Singh Jadhav was one of the surviving descendants of Lakhuji Jadhav. He had famously fought in the Battle of Pavankhind. He had his great-grandson namely Dhanaji Jadhav who was a famous Maratha commander.
Lakhuji's Palace
Lakhuji Jadhav's palace which was also the birthplace of Jijabai is totally destroyed, except for its massive gate of stone and bricks and underground chambers. There is a drum chamber above the gate known as Nagarkhana. The underground chambers are in quite good condition. It was used for providing the basic training for college students for some time.