Jodha Bai or Mariam-Uz-Zamani means 'Mary of the age' in persian language. She was a wife of the third mughal emperor Akbar. She was born in 1542 who belonged to a hindu rajput family. In 1562, her father Raja Bharmal of Amber (in Rajasthan) proposed Akbar to marry her daughter. This was a political wedding held in Sambhar (in Jaipur district).
The marriage of Akbar with Mariam-Uz-Zamani had a huge impact in adapting the religious differences among Akbar and his empire. She had the son Jahangir who was the only surviving eldest son of Akbar.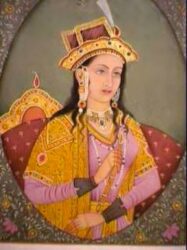 Quick Facts
Full Name:

Mariam-Uz-Zamani

Born: c. 1542
Died: 19th May 1623
Religion: Hinduism
Dynasty: Kachwaha by birth | Timurid by marriage
Spouse:

Akbar

Father: Bharmal
Mother: Rani Champavati
Famous as: A wife of Akbar | Referred to as Hira Kunwari, Harkha Bai and Jodha Bai
Names
Though her birth name is not known. Akbar awarded her with the name 'Mariam-uz-Zamani' after the birth of his son Jahangir. This name has been mentioned even in the autobiography of Jahangir 'Tuzk-e-Jahangiri'. She was also referred to as 'Harkhan Champavati' by Kachwaha clan in 18th century. Later she was give many names like Harkha Bai, Jiya Rani, Maanmati and Shahi-Bai. However, she is popularly known by the name 'Jodha Bai' in modern times.
'Jodha Bai' name was first used in James Tod's Annals and Antiquities of Rajasthan. During that time this name was treated as an error because this had suggested the relation of Mariam- uz-Zamani to a Jodhpur royal family. And there is no such proof that Akbar had married a princess of Jodhpur.
Family
Raja Bharmal was her father who was the ruler of Amber. Rani Champavati was her mother who was the daughter of Rao Ganga Solanki. Raja Prithviraj Singh I and Apurva Devi were the paternal grandparents. Apurva Devi was the daughter of Rao Lunkaran, the ruler of Bikaner.