Gulrukh Begum was a Mughal princess and a daughter of the Mughal Emperor and founder of the Mughal Empire, Babur. Her name means "The rose-cheeked princess". She was the aunt of the third Mughal Emperor Akbar and the half-sister of the second Mughal emperor Humayun.
She was very beautiful like her daughter Salima Sultan Begum.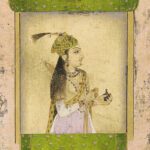 Quick Facts
Full Name: Gulrukh Begum
Born: 1483
Died: 1539
Religion: Islam
Spouse: Nur-ud-din Muhammad Chaqaniani
Father: Babur
Mother: Salha Sultan Begum
Famous as: Daughter of the Mughal Emperor Babur
Origin of name
Gulrukh has many names including Gulrang and Gulbarg. Her mother was a Turkish descendant. This could be the reason she had a Turkish name.
Family and background
Gulrukh maternal family background was controversial. She was the daughter of Salha Sultan Begam and Babur.
Though the available information related to the marriage of Babur with Salha Sultan is limited. But it happened somewhere between 1511 and 1519. During this period Babur was thrown out of Kabul after the rising of mughals. That's the reason Babur including Gulbadan Begum (author of the book Humayun-Nama) did not mention the name of Salha Sultan Begum in the book. And so she remained silent in the name of her child Gulrukh begum. However, she had mentioned the other wives of Babur in many places including their children names.
Marriage
Though the book Baburnama has no information related to Salha Sultan Begum and marriage of Gulrukh Begum. But according to Annette Beveridge, Firdaus Makani had arranged Gulrukh's marriage.
Gulrukh married Nur-ud-din Muhammad Chaqaniani. She had a daughter, Salima-sultan Begum. Salima's first husband was Bairam Khan. After his death she married to the mughal emperor Akbar.
Death of Gulrukh Begum
It is said that Gulrukh Begum died in 1539 after giving birth to Salima Sultan Begum. Salima was just four months old during her death.