Raja Bhagwant Das, the king of Amer was the elder brother of Mariam-uz-Zamani, who was the wife of the Mughal Emperor Akbar. He was also the eldest son of Raja Bharmal. After his father's death, Raja Bhagwant Das succeeded him.
Raja Bhagwant was succeeded by Raja Man Singh I after his death who was his son by his wife Bhagwati Devi. Madho Singh, who was his second son became the king of Bhangarh.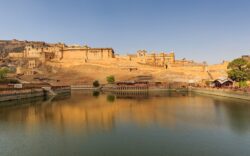 Bhagwant Das was also the governor of Kabul. Akbar had awarded him with the rank of mansab in 1585 and also gave him the title of Amir-ul-Umra. He was involved in many of Akbar's battles including the battles in Kashmir, Punjab and Afghanistan.
Bhagwant Das had also defeated the army of Yousuf Shah Chak who was the Kashmiri king. He was also known as the dangerous and strong king.
His daughter, Shah Begum was married to the Prince Salim (later became emperor Jahangir).
Quick Facts
Full Name: Bhagwant Das
Born: 1527
Died: 4th December 1589
Reign: 27th January 1574 to 4th December 1589
Religion: Hinduism
Spouse: Rani Sa Bhagwati Bai Ji Sahiba
Father: Bharmal
Mother: Phulvati Bai
Famous as: The King of Amer