Raja Bharmal was born in c. 1498 in Amer, Jaipur. He was also known as Bihari Mal, Bhagmal. He was the Rajput ruler of Amer (nowadays known as Jaipur) from 1548 to 1574.
Raja Bharmal was the father of Mariam-uz-Zamani who was also famous by the name Harkha Bai and Hira Kunwari. She was married to the great Mughal Emperor Akbar in 1562. This was a notable event of marrying a hindu girl in a muslim community during that time. Mariam gave birth to the emperor Jahangir.
Raja Bharmal died in 1574 in Agra.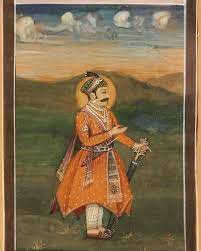 Quick Facts
Full Name:

Raja Bharmal

Born: c. 1498
Died: 27th January 1574
Reign: 1st June 1548 to 27th January 1574
Predecessor: Askaran
Successor: Bhagwant Das
Religion: Hinduism
Spouse: Phulvati, Champavati, Padmavati, Dayawati
Father: Raja Prithviraj Singh I
Mother: Rani Apoorva Devi
Famous as: The Rajput ruler of Amer
Family
Raja Bharmal was the fourth son of Raja Prithviraj of Amer (reign. 17th January 1503 – 4th November 1527) , and Rani Apoorva Devi of the Rathore clan. She was the daughter of Rao Lunkaran of the Bikaner royal family.
Reign
After the death of Prithviraj in 1527, Raja Puranmal who was his eldest son succeeded him. Puranmal died at the Battle of Mandrail on 19th January 1534. He was helping the Mughal Emperor Humayun in recapturing the Bayana fort before he died. He had a son named Sujamal. Sujamal could not succeed his father because of the reason that he was a minor at that time.
Puranmal's younger brother Bhim Singh succeeded him (reign.1534 – 22nd July 1537) who was also the next eldest son of Rani Apoorva Devi. The dispossessed Sujamal took shelter with the Tanwar royal family. Bhim Singh was succeeded by his eldest son, Ratan Singh. He was killed by his half-brother Askaran, who became the king next day. But the nobles of Amber joined to depose him. On 1st June 1548, Bharmal became the ruler of Amer at the age of 50.
It is said that Raja Bharmal did not inherit his father according to the principles laid down by Manu. The wise emperor Akbar pursued a liberal policy towards his Hindu subjects and Raja Bharmal's descendants offered their services to the Mughals. Mughals who later became a strong empire because of the support of Kachwaha.
His eldest son Raja Bhagwant Das succeeded him after his death