Jijabai is also known by the title Rajmata Jijabai who was the mother of the founder of the maratha empire, Shivaji Maharaj. She was the daughter of Lakhuji Jadhav from Sindkhed Raja (in Budhana district in Maharashtra).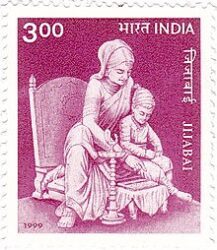 Quick Facts
Full Name: Jijabai Shahaji Bhosale
Born: 12th January 1598
Died: 17th June 1674
Reign: 1645 to 1674
Religion: Hindu
Dynasty: Seuna Yadava by birth | Bhonsle by marriage
Spouse: Shahaji Bhosale
Father: Lakhuji Jadhav
Mother: Mahalasabai Jadhav
Famous as: Rajmata of Maratha Empire
Early life
She was born on 12th January 1598 as the daughter of Mahalasabai Jadhav and Lakhuji Jadhav of Deulgaon, near Sindkhed. Nowadays Sindkhed comes in Buldhana district of Maharashtra. Lakhuji Jadhav was Maratha noble-born.
Jijabai married to Shahaji Bhosale an early age, who was the son of Maloji Bhosale of Verul village. Maloji Bhosale was a military commander under the Nizam Shahi sultans.
Jijabai taught her son Shivaji about Swaraj. This helped him to grow as a great warrior.
Popularity of Jijabai in modern life
Padmavati Rao has played the role of Jijabai in the bollywood movie 2020, Tanhaji.
Mrinal Kulkarni has played the role of Jijabai in Marathi film, Farzand.
She has also played the role of the same character in Fatteshikast, another marathi historical drama film.
Mrinal Kulkarni has portrayed the role of Jijabai in a TV series Raja Shivchatrapati aired in 2008.
A biography of Jijabai has been shown in the 2011 film, Rajmata Jijau.
Shilpa Tulaskar has portrayed the role of Jijabai in the 2011 series Veer Shivaji.
Prateeksha Lonkar has played the role of Jijabai in Swarajya Rakshak Sambhaji, which was an Indian historical drama.
Smita Deshmukh has played the role of Jijabai in the 2011 Marathi film Rajmata Jijau.
Amruta Pawar has played Jijabai role in a show based on Jijabai, Swarajya Janani Jijamata.